HOW SPLITTING PHYSICAL COM PORT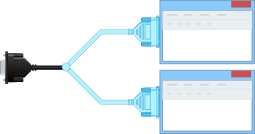 A com port splitter program allows you to split one physical COM port into several virtual COM ports. Each virtual serial port appears as the exact copy of a hardware COM port. Thus, several communications applications can exchange data with serial device connected to the physical COM port simultaneously.
COMPORT SPLITTER WHICH ONE?
I recommend TCP COM Bridge which I am using. Another alternative is VPSE. With this program you only create one virtual port and all programs are directed to this one. TCP COM Bridge feels more stable, easier to use, that's why I am using it.