WHAT IS CATSYNC AND HOW CAN IT BE HELPFUL TO YOU?
CATSync is a standalone program that allows you to syncronize public WebSDR receivers with your real rig (connected via CAT control to your computer). It supports the classical WebSDR as well as Kiwi SDR interfaces.
This means that you change frequency on a KiwiSDR receiver online simultaneously as the frequency as of your transceiver. A KiwiSDR gives you a beautiful waterfall on your computer screen showing the "busy" frequencies.
You can listen to a KiwiSDR at the same time as you listen to your transceiver, the sound of the kiwi comes through the computer audio output.
So when you need a KiwiSDR nearby as where you live, you can listen to strongest signal. When you have QRM at home but not on the KiwiSDR, you listen to that one instead. Sometimes the signals are better readeable through the Kiwi and sometimes better at home, nice isn't?! Especially when you have a long distance DX you don't want to miss!
Download Sites:
Download CATSync Demo V1.22 Installer here (GoogleDrive)
Now you probably need to split your physical com port of your transceiver to simultaneously run programs like HRD (or free Log4OM) & Catsync (using Omnirig!)
HOW SPLITTING PHYSICAL COM PORT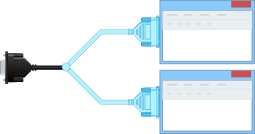 A com port splitter program allows you to split one physical COM port into several virtual COM ports. Each virtual serial port appears as the exact copy of a hardware COM port. Thus, several communications applications can exchange data with serial device connected to the physical COM port simultaneously.
COMPORT SPLITTER WHICH ONE?
I recommend TCP COM Bridge which I am using. Another alternative is VPSE. With this program you only create one virtual port and all programs are directed to this one. TCP COM Bridge feels more stable, easier to use, that's why I am using it.